Ground Penetrating Radar (GPR)
GPR is a state-of-the-art testing methodology that uses the principle of propagation of electromagnetic waves. It can be used to locate buried objects or obtain various subsurface attributes. Depending on the type of application, air-launched or ground coupled antenna configurations of different frequencies can be used.
For concrete applications, GPR can determine the location and depth of rebar (mapping), wire-mesh, steel beams, post tension cables, pipes or conduits. For bridge deck inspection, GPR can be used to evaluate the rebar deterioration at or above the level of the top layer of reinforcing bar on either concrete or asphalt overlaid decks. It can also be used to accurately determine thickness of bound pavement layers such as bituminous, concrete, and stabilized bases.
For utility location, GPR is an excellent tool for locating and mapping metallic and non-metallic utilities or underground tanks. On geophysical applications, GPR can be used to detect underground voids and sinkholes or identify the depth to bedrock.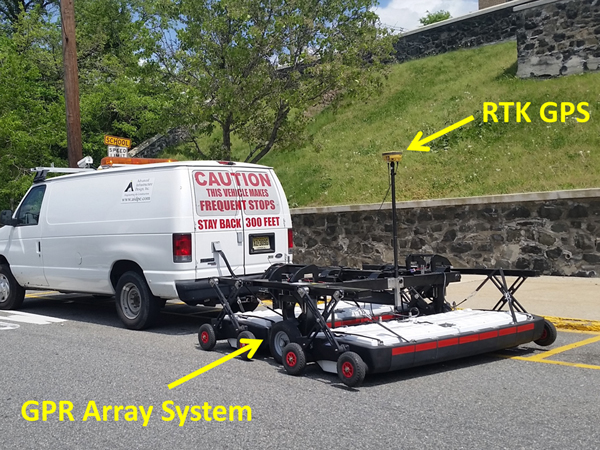 Trailer-mounted Ground Coupled System
Push-Cart Ground Coupled System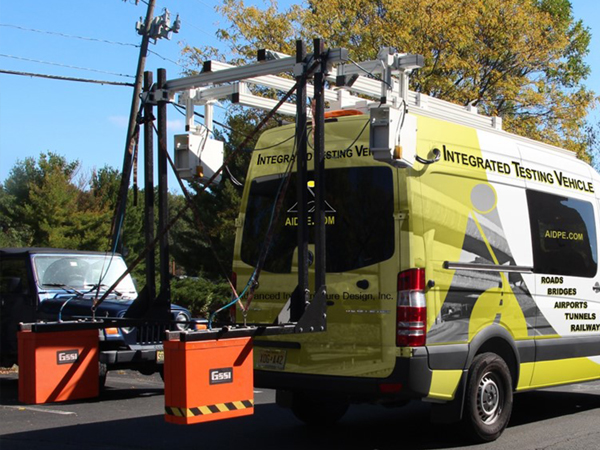 Air-Launched System mounted behind vehicle